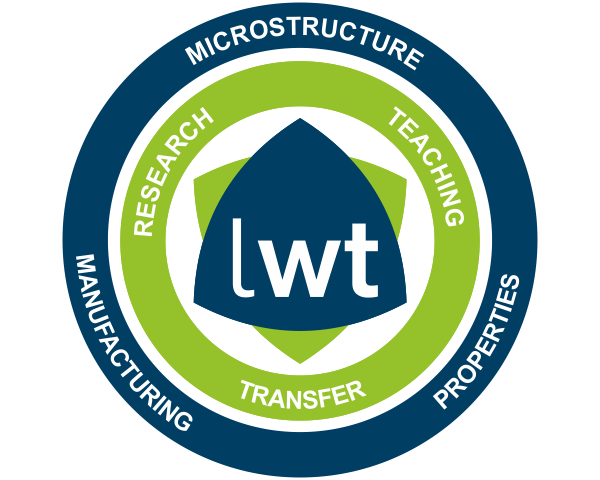 The Chair of Materials Technology (LWT) at the Ruhr-Universität Bochum sees itself as responsible for sustainable development and the responsible use of energy and resources.
The cornerstones of the LWT's activities are research, teaching and transfer. In application-oriented research, based on findings from basic research, it builds a bridge between tradition and innovation.
The LWT focuses on the interrelationships between production, microstructure and properties of high-performance metallic materials used in mechanical and plant engineering, energy technology, mobility applications and medical technology. In particular, these are powder-metallurgical, high-alloy materials, nickel-based superalloys, shape memory alloys, nitrogen-alloy steels and new materials for additive manufacturing, which are characterized using the latest analytical techniques and further developed and optimized using computer-aided methods.
The teaching offered by the LWT combines the necessary basic knowledge with the findings from current research projects as well as technical application within the framework of modern course formats. This is linked to the aim of inspiring students for materials engineering and preparing them in the best possible way for a career in industry and research. The work of the LWT always aims at the transfer of research findings into technical and industrial practice.
The objective is to improve existing property profiles and to develop new ones. In particular, circular value creation and the reduction of absolute energy and resource requirements are addressed.
The LWT is committed to equal cooperation in the world of work and in society, it actively promotes equality, provides training and enables a good work-life balance through flexible working hours in the sense of a family-friendly university. The open, trusting and reliable cooperation within the entire team forms the basis for a pleasant working atmosphere. Through research and teaching, the LWT trains young scientists at all qualification levels and thus prepares students and doctoral candidates for the "great global challenges" of sustainable development.